Airport Customer Service
Airport Customer Service (video opens in modal)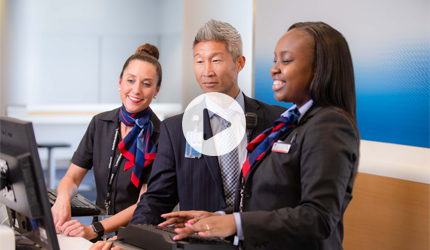 Do you have what it takes to deliver an elevated customer service experience to our customers?
Watch the video to find out.
Ramp/Fleet Services
Ramp/Fleet Services (video opens in modal)
Our ramp and fleet service team members ensure baggage and cargo services run smoothly while maintaining proper movement of aircraft – on and off the gates.
Check out this video to learn more.
Customer Service
Our customer service teams are a key voice of our company. As we work to restore American Airlines to the greatest airline in the world, it's your voice, ability to problem solve, develop relationships and take care of our customers that makes the difference. Our customer experience is a reflection of your experience as an employee. We're committed to making your experience great so you can do the same for our customers.
Here are a few jobs we hire for in Customer Service:
Customer/Passenger Assistance Representative
Customer/Passenger Service Agent
Customer Service Manager
Reservations Agent
Results 1 – 14 of 14
Page 1 of 1
Search results for "". Page 1 of 1, Results 1 to 14
Job Title
Location
Date
Fleet Service Agent Part Time

San Francisco, CA, US

Dec 11, 2019

0.00 mi

Customer Service

CA

San-Francisco-Fleet-Service-Agent-Part-Time-CA-94101

Fleet Service Agent Part Time

Hartford, CT, US

Dec 10, 2019

0.00 mi

Customer Service

CT

Hartford-Fleet-Service-Agent-Part-Time-CT-06101

Fleet Service Agent Part Time

Hartford, CT, US

Dec 10, 2019

0.00 mi

Customer Service

CT

Hartford-Fleet-Service-Agent-Part-Time-CT-06101

Customer Service Manager, Airport Customer Operations

Las Vegas, NV, US

Dec 10, 2019

0.00 mi

Customer Service

NV

Las-Vegas-Customer-Service-Manager%2C-Airport-Customer-Operations-NV-89044

Fleet Service Agent Part Time

Charlotte, NC, US

Dec 9, 2019

0.00 mi

Customer Service

NC

Charlotte-Fleet-Service-Agent-Part-Time-NC-28201

Customer Service Manager, Airport Workforce Administration

Ft Worth, TX, US

Dec 9, 2019

0.00 mi

Customer Service

TX

Ft-Worth-Customer-Service-Manager%2C-Airport-Workforce-Administration-TX-76101

Fleet Service Agent Part Time

Boston, MA, US

Dec 9, 2019

0.00 mi

Customer Service

MA

Boston-Fleet-Service-Agent-Part-Time-MA-02108

Agent, Airport Operations PT - Mexico SJD

Los Cabos, BCS, MX

Dec 8, 2019

0.00 mi

Customer Service

BCS

Los-Cabos-Agent%2C-Airport-Operations-Mexico-SJD-BCS

Fleet Service Agent Part Time

Raleigh, NC, US

Dec 8, 2019

0.00 mi

Customer Service

NC

Raleigh-Fleet-Service-Agent-Part-Time-NC-27601

Office Based Reservations Representative - Winston-Salem, NC (INT)

Winston-Salem, NC, US

Dec 3, 2019

0.00 mi

Customer Service

NC

Winston-Salem-Office-Based-Representative-Winston-Salem%2C-NC-%28INT%29-NC-27101

Office Based Reservations Representative Elite - Dallas/Fort Worth, TX (DFW)

Ft Worth, TX, US

Dec 3, 2019

0.00 mi

Customer Service

TX

Dallas-Office-Based-Representative-Elite-DallasFort-Worth%2C-TX-%28DFW%29-TX-75201

Office Based Reservations Representative - Phoenix, AZ (PHX)

Phoenix, AZ, US

Dec 3, 2019

0.00 mi

Customer Service

AZ

Phoenix-Office-Based-Representative-Phoenix%2C-AZ-%28PHX%29-AZ-85001

Fleet Service Agent Part Time

Providence, RI, US

Nov 22, 2019

0.00 mi

Customer Service

RI

Providence-Fleet-Service-Agent-Part-Time-RI-02901

Customer Service Manager, Airport Customer Experience

Denver, CO, US

Nov 19, 2019

0.00 mi

Customer Service

CO

Denver-Customer-Service-Manager%2C-Airport-Customer-Experience-CO-80002
Results 1 – 14 of 14
Page 1 of 1